The Story Of a 100k/mo Store In 1 Year

By Team eCom Babes
October 29, 2020 - 10 minute read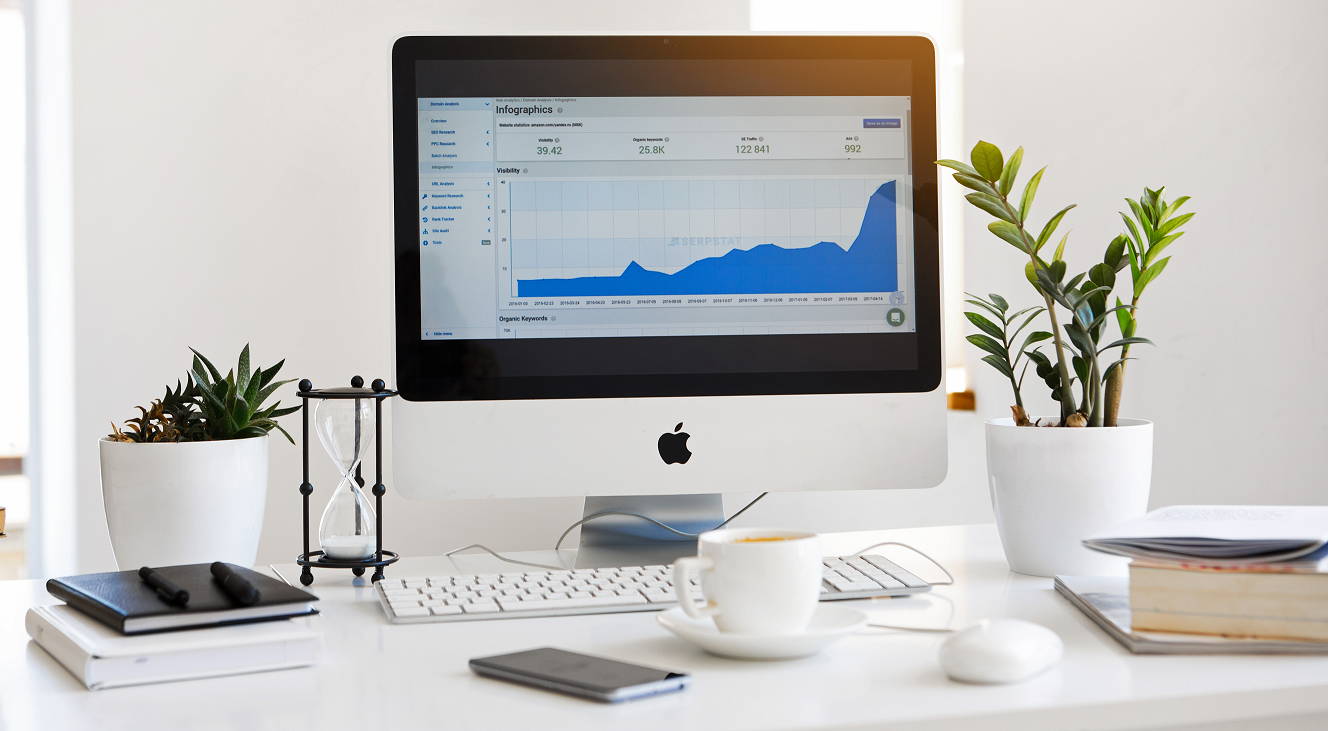 "It just goes to show you that eCommerce is flexible because it's online and there is so much opportunity, you can definitely make it work whether you're a mom, or you have another job at the time you're starting out" - Katherine
Katherine is one of our original members who has really shown that you do not need to work full time to start a successful eCommerce business. It can start off as a side hustle that can grow into something life changing.

Most women who look into eCommerce or any business believe that...

- You can't start it if you have a job.
- You can't start it if you're in school
- You can't start it if you're a full time mom
- You HAVE to put all your attention to your business
And all of this is simply not true.

Katherine's story shows that you can be juggling a hundred different things and still start an online boutique on the side and grow it to over 100k/mo completely changing the course of your life.
Katherine joined eCom Babes in 2019. And WOW did she have a lot on her plate.

At the time she was 23 years old finishing up college, doing a fifth year, working a full time internship... oh and she was competing in division 1 athletics.

But like most women in college, she was still unsure exactly what she wanted in life. She was deciding between the traditional path of a 9-5 job or the more exciting, but unknown path of becoming an entrepreneur and starting a business.

She always believed there was more for her then working in a cubicle until 65 and she wanted something that could create real wealth, so she decided to take the path less traveled and joined eCom Babes while still managing all of her responsibilities.

This is a key take away -- time is never an excuse to chase your dreams and your passions.

She had a hundred excuses to NOT join eCom Babes but she went with her intuition, her passion and pulled the trigger.

Here is a short review she made for eCom Babes a few weeks after she joined the program.
You can tell she is a bit nervous and unsure where she will end up in life, but at the same time excited about what's to come and it's amazing to have seen her growth into an incredibly successful and confident business woman in a year's time.

One of Katherine's strongest qualities is her ability to take action. She's incredibly active in the group, helping out all the members, engaging in the community and of course asking questions… a lot of questions.





The community aspect is something we really pride ourselves on here at eCom Babes as we believe it is one of the most important components of any kind of success.

We've really built the strongest community of women entrepreneurs and jam packed it with straight up winners. No complaining, no negativity, just taking action, having fun and of course winning.

After going through the 6 week eCom Babes program, asking questions, joining the live Q&A coaching calls, she finally completed her store, launched it and received her first sales.

This was back in June of 2019.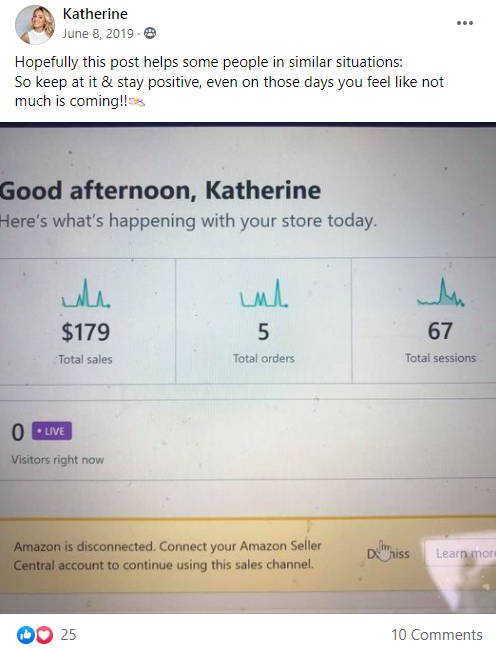 The first sale is the most important and honestly the most satisfying because once you make your first sale you know that in order to get your 2nd sale, 3rd, 4th or 100th you just have to do more of what made you that first sale -- it's really not complicated.


So for the rest of 2019 she put the finishing touches on her store, improved her marketing, and really took massive action on what worked in the first place... and did more of the SAME.

And.... this was the result of her efforts.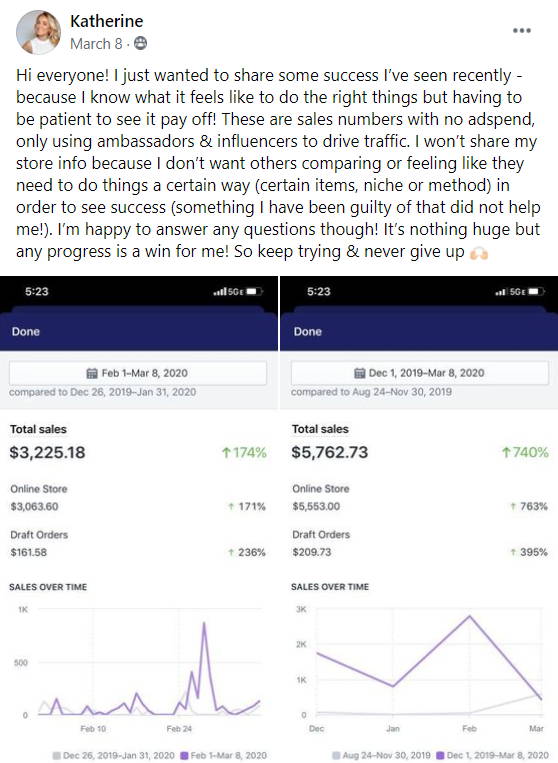 She was able to make over $1000/mo in sales every month from Dec 2019 - Mar 2020.


And best of all this was done WITHOUT any ad spend.


You see, one of the unique parts of the eCom Babes program is that we do NOT want our students to spend money on ads before proving your brand, your offer and your products.


When Cortney was starting her eCommerce journey she experienced first hand how devastating and risky paid advertisements are for a beginner. Paid ads are incredible if you know what you're doing, it's like throwing gasoline on a fire, but if there is no fire to start with then all you have is a mess to clean up.


Because of this Cortney, has created the "Connective eCommerce" strategy which is a unique system that utilizes free traffic sources to first prove your store, get initial sales, AND THEN scale your proven store with paid ads.


And that is exactly what Katherine did.


She didn't have a single $1000 month or 2, she did this consistently for 4 months without spending a penny on advertising.

That is what proving your store looks like.


Once she had this down, she decided it was time to move into paid advertising… and it worked like a charm.

She already built a brand for herself using free traffic, she had constant traffic to feed the Facebook algorithm and most importantly she had extra profits from her previous successful months to use for advertising dollars instead of going into debt.


THIS IS WHAT CONNECTIVE ECOMMERCE IS ALL ABOUT


She began advertising in March, testing out different audiences, creatives and following the format laid out in the eCom Babes 6 week program.


She scaled it up to 5 figures in monthly sales in March which is an incredible accomplishment.


What would an extra 10, 20 $50,000/mo do for you?


It's absolutely life changing for most women, but she wasn't done there...

In April she scaled up the winning campaigns she drafted in March and the results seem mind boggling, but they are really expected if you've followed the blueprint laid out in the eCom Babes program.


In a single month she grossed over $100,000 in revenue and she was able to keep around $40,000 after ad spend and cost of goods.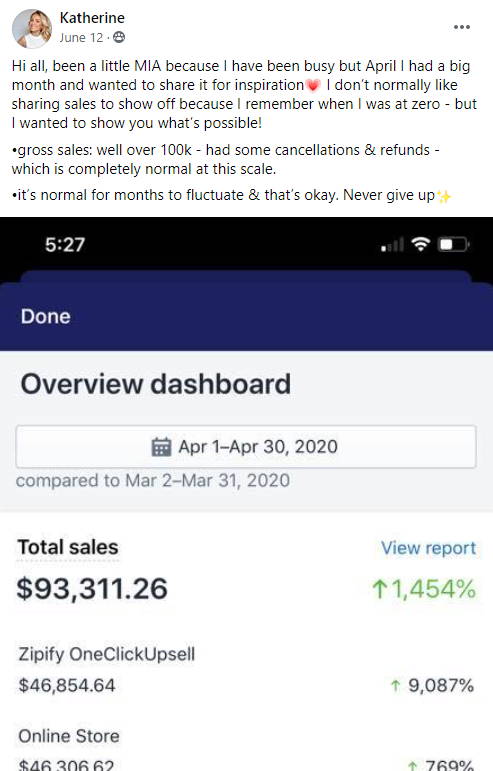 So her journey and timeline looked something like this...


Joined eCom Babes in March 2019


Launched her store in June 2019


First sales in June 2019


Organic strategies June 2019 - Mar 2020


Hyper scaling ads + Organic strategies Mar 2020 - present


In less than a year she was able to go from a fresh college graduate a bit unsure of what life had to offer her, to an incredibly successful 100k/mo and 7-figure entrepreneur out earning the average US salary by 10X.


If you're still interested in more about her story, Cortney had the pleasure of interviewing her about her journey, her struggles and ultimately her success.

Click here to check out her exclusive bonus eCom Babes interview.


For all the women out there that know they have more potential in them and wanting more out of life -- I hope this story finds you and shows you the power of eCommerce and that even if you're busy with soo many different responsibilities, it only takes 1 year to completely change your life.


What will the next year look like for you?


If you're interested in learning more about eCom Babes and how to join the same exclusive 6 week course as Katherine -- you can schedule a call here to talk to an eCom Babe team member.


We look forward to speaking with you and helping you craft your dream life!

Until next time.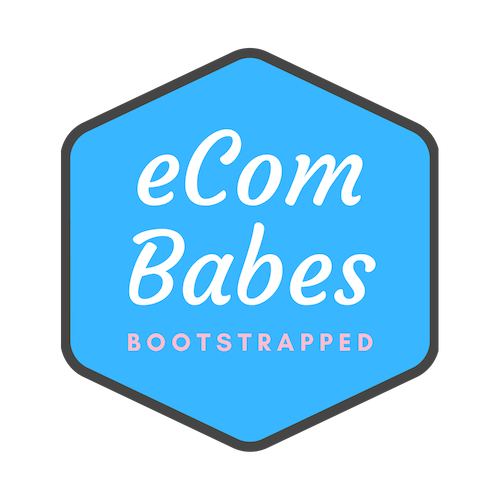 copyright © 2020 ecombabes.com